If you want to learn more about us, you're in the right place. Read to learn how we managed to grow our business so fast.
"We are a very efficient husband and wife team who makes every effort to solve your problems correctly the first time, instead of wasting your time and ours coming back to correct careless errors. Every shop in Atlanta claims to be honest and so do we. It's our commitment to excellent personal service that separates us from the competition. We use state of the art tools and maintain a clean, organized and safe work area which is essential in providing our customers with a great service experience."
 -Joe Park
"Being at each appointment with my husband and providing a woman's perspective in certain situations often proves to be a valuable asset to our customers. Building long term relationships always eliminates the difficult decision of who to call for all of our previous clients."
 -Renee Park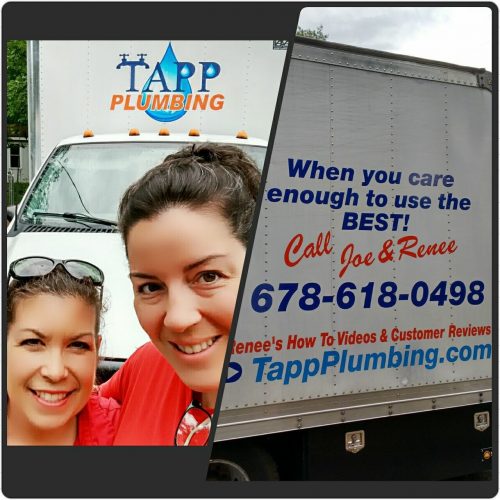 Many years ago I needed plumbing help. Naturally I called Tapp Plumbing. One of the first things that Renee taught me was to turn off the water at the street level. When I saw water gushing out of the water heater at our rental house, of course I knew to get to that valve immediately. I love that Renee empowered me to know what to do instantly. Can I just say, 3.5 hours after contacting them, I now have a new hot water heater hooked up. They are so amazing, don't ever call anyone else. Thanks again Tapp Plumbing crew. You all are the absolute BEST!!!
Contractor Spotlight: Tapp Plumbing - Loganville
Tapp Plumbing, located at 2121 Rock Court in Loganville, GA, is a family owned and operated business that was established in 2008 by Joe and Renee Park. Due to the changing economy, Joe & Renee decided to establish Tapp Plumbing after many years of experience in the industry. Joe is a 2nd generation of the plumbing industry and received his Master Plumbers license in 1993. Joe and Renee have worked together as a team for 13 years now and 98% of the time they both attend each job. Together, Joe & Renee make a great team and enjoy working alongside one another!!
Tapp Plumbing was named after Joe & Renee's 3 children, Tony, Austin, & Paige Park. The company serves Loganville and surrounding areas providing many services that include, Drain Cleaning, Camera sewer lines, Thermal Imaging, Drain and Water line Replacement, Water Heater Installation, Residential and Light Commercial Construction, Basement Finishes & Remodels, and much more.
TAPP Plumbing is dedicated to providing their customers with outstanding customer service and the highest quality service for all oftheir plumbing needs. In a recent interview with Joe Park, he stated "The attention to detail that is provided by my wife Renee, and I at each appointment offer our customers a unique and pleasant service experience- at a fair, affordable upfront price. We take personal pride in quality workmanship and provide complete and lasting plumbing solutions for any plumbing problem." For all your plumbing needs, please call Tapp Plumbing at 678-618-0498.